Friends, if You have Passed the Test of Aadhaar Operator or Uidai Aadhaar Supervisor/ Operator Examination! And you want to Open Uidai Aadhaar Center in your Village/City/Town, And You Want To Open Aadhaar Center Without Bank BC & CSC Center Then You Come to Right Place. If You Wants to know about opening a new Aadhaar Enrollment  Center Registration full Process / How To Open A New Aadhaar Center. So in this post, we are going to tell in the detail about the whole process of How to open A new Aadhaar Enrolment Center. So Let's Begin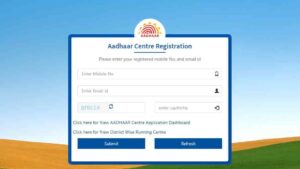 Note: – But keep in your mind that you only need to apply for it from the official website of the state government! And don't pay when someone has contacted you via WhatsApp / Facebook / SMS / Email or any other way! Otherwise, it may be a Froud for you.
How To Open Aadhaar Enrolment Center
UIDAI and the Ministry of Electronics and Information Technology (MeiTY) have signed a memorandum of understanding with almost every state government. Of which the State Electronics Department is functioning as the State Registrar and Enrollment Agency. And many state governments have opened Aadhaar centers in their government offices. To open a new Uidai Aadhaar Center / Aadhaar Service Center, you need to apply by visiting the website of your state's electronics department.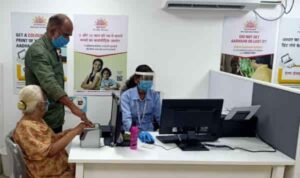 Qualifications For Aadhaar Enrolment Center
Uidai Aadhaar Operator / Supervisor Sify Certificate
The latest soft copy of e-Aadhaar
No Objection Certificate-NOC
Government Premises NOC
Internet connection
SWAN Network Connection at the Center Location
Completed supervision consent form
Verification non-objection Certificate
How to apply for Aadhaar Enrollment Center online with State Government Register
You can easily find information about the registration of new Aadhaar centers on the websites of the IT departments of many state governments. From where you can online for the new Aadhaar Center! But keep in mind that many states only give Aadhaar work to their government office officials! And online application services are not available in all states. Therefore, for more clear information, visit the official website of your state government or the official of UIDAI.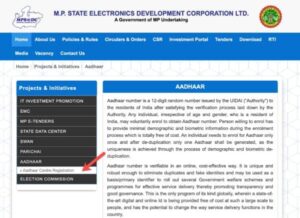 For example – we are going to tell you how to open a new Aadhaar Center from MPSEDC's website!
How to Open Aadhaar Enrolment Center in MPSEDC 
UIDAI, Electronics and Information Technology (MeiTY) has signed an MoU with the government. MP in 2010. MPSEDC has been working as State Registrar and Enrollment Agency since March 2015.
MPSEDC – M.P. To open a new Aadhaar Center from the website of the State Electronics Development Corporation – MP Undertaking's Government, the applicant must be a resident of the State of Madhya Pradesh! And after passing the Aadhaar Supervisor / Operator exam, you can register to Open Aadhaar Center Online in the following ways.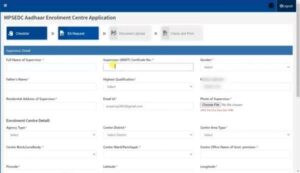 Uidai Aadhaar Enrolment Center Registration Step by Step Process
First of all Visit- https://www.mpsedc.mp.gov.in
Now click on Aadhaar under Project and Initiative
Now click on Aadhaar Center Registration
Enter your mobile number and email id
And then fill in the captcha code and click submit
Now fill in all the required details
Upload the relevant documents to complete the registration process
How to Check MPSEDC Aadhaar Center Application Status
Visit – https://www.mpsedc.mp.gov.in
Now click on Aadhaar under Project and Initiative
Now click on Aadhaar Center Registration
Click here to view the Aadhaar Center application dashboard
Select your district and check the status of your Aadhaar Center application
How to Check the Details of District Based Running Aadhaar Center
Go to – https://www.mpsedc.mp.gov.in
Now click on Aadhaar under Project and Initiative
Click on Aadhaar Center Registration
Click here to see the district-based running Aadhaar centers
Check the name of the district
Important Apply Links